Choose your Domain
12th March 2008 - eXtend 2.0 Released
Introducing eXtend 2.0, our completely updated web hosting control panel.
The eXtend 2.0 builds on our already popular control panel. Using the

latest Internet technologies we have streamlined eXtend to make it work for you. eXtend 2.0 is easy to use and lets you manage your files, install CGI scripts, create databases, configure your email and more.
New Features Include:
The all new look makes it easier to find the tools you need.
You can drag, drop and collapse panels to make eXtend work for you.
New file manager uses the latest technology and provides super-fast web based file upload.
Bandwidth statistics lets you see how much bandwidth you use each day and month.
Website Redirects let you forward your website to another website.
Three scheduled tasks per account rather than one.
Updated CGI Scripts:
Joomla 1.0 and 1.5 - You choose the version you want.
phpBB 2 and 3 - You choose the version you want.
New CGI Scripts:
php Coin - online billing system ideal for web hosting Resellers.
TraceWatch - Real time web stats and traffic analysis lets you keep track of the visitors to your website.
Typo3 - Content management system for enterprise purposes on the web and in intranets.
Crafty Syntax Live Help - Offer live chat on your website so customers can contact your sales and support team.
osTicket - Widely-used open source support ticket system.
dotProject - Web-based project management application, designed to provide project layout and control functions.
15th February 2008 Web Hosting £1 per year
We are thrilled to announce that all are web hosting packages are now only £1.00 for 12 months! sign up today FREE of charge and see all the great features we offer.
order now...
7th August 2007 - Brand New Search Engine Submission Products
When you run a website, one of your number one priorities is to make sure your website is listed in all the best positions on all the best search engines. Our new Search Engine Submission products allow you to choose the level of exposure your website needs. Choose from a guaranteed listing in Google, a Competitive Analysis, Submission to over 400 Search Engines and many other great features. You can even choose to have your own account manager to help you along the way.
Each of our 4 new packages from Basic to Extreme submits your site every month for 12 months, giving your website the best chance to be in all the major search engines.
To find out more click here.
We take your feedback very seriously at Only One Internet and we are pleased to announce a range of added features and upgrades as a result of that feedback.
If you are a Only One Internet customer you can send us your ideas, suggestions or comments whenever you like by visiting your customer control panel and clicking "An Invitation to Send Feedback" on the front page.
Email
All mailboxes have now been upgraded from 50 MB to 100 MB.
WebMail storage has been upgraded from 100 MB to 250 MB.
IMAP has been enabled on all mailboxes allowing you to connect to any of our mailservers using IMAP. With IMAP your mail is stored on the server, you can create folders and delete email and all these actions happen on the server. This means that you can use any IMAP compatible mail client such as Outlook Express, Windows Mail and Outlook on any computer connected to the Internet to read your email. Each mailbox can store up to 100 MB of email.
Web Servers
PHP4 has been upgraded to 4.4.7 and PHP5 to 5.2.3 on all web servers.
SOAP support has been added to PHP5 allowing PHP programmers to interact with SOAP based web services.
Ruby has been upgraded to 1.8.5 on all web servers.
Imagemagick and Ghostscript enabled and updated on all web servers.
Unlimited Control Centre
Now you can let your customers try the eXtend Control Panel, Website Builder and Website Builder Plus before they buy them with your own demo links to put on your website. Visit the account preferences section of the Unlimited Control Centre to find out more.
The Only One Internet Unlimited package allows you to create your own eXtend Control Panel theme or customise one of ours. You can now preview your changes before making them live using our new preview feature. You can find this in the eXtend Control Panel Brands page in the Account Preferences section of the Unlimited Control Centre.
Another improvement to the eXtend Control panel branding is that you can specify the domain name in your theme, full details of the special tag to use are on the eXtend Control Panel Brands page.
The renewal notifications system has been improved so that you will receive reminders for yearly packages at 7 days and 30 days.
You can now specify the account creation date in welcome emails, to configure a welcome email visit the "Web Hosting Welcome Emails" page in the Account Preferences section of the Unlimited Control Centre.
eXtend
Email Filter Logs have been updated so you can have the log emailed to you immediately.
Junk Mail Filters have been updated so you can choose to have the subject of an email that is suspected as SPAM changed to "***SPAM*** Original Subject". To enable this feature visit the Junk Mail Filters page in the Email Configuration area of eXtend.
Zencart upgraded to the latest version, you can install a new copy from the CGI/PHP Scripts area in eXtend.
eXtend - New Scripts to Install
RoundCube Webmail - RoundCube Webmail is a browser-based multilingual IMAP client with an application-like user interface. It provides full functionality you expect from an e-mail client, including MIME support, address book, folder manipulation, message searching and spell checking. Once installed you can use RoundCube to access any mailbox on our servers using IMAP. Ideal for anyone wanting their own Webmail installation or for Resellers looking to have a Webmail client on their website.
Gallery - Share your pictures with others or view them over the internet. Upload your pictures while on holiday so you can take more. Create groups of people who can see different sets of pictures e.g. you might let your football team see pictures from matches .
MediaWiki - A collaborative technology for organizing information on Web sites. Work with others to maintain information. For example if you run a business you can share information with your colleagues at the same time as documenting it for yourself.
SugarCRM - A Customer Relationship Management application - This application lets a business keep track of its relationships with its customers. Users can manage customer accounts, contacts, sales leads, calls, meetings etc. A dashboard showing the most successful leads, the sales pipeline, and the month-by-month outcomes for opportunities in the pipeline can be displayed.
Only One Internet are pleased to announce the launch of Domain Privacy. A powerful, yet simple way to protect your domain name owner information.
Developed in-house, our new system masks your contact information in the Domain WHOIS database. Often your contact information can be used by spammers, criminals, competitors or anyone else who wants to find out information about you.
Using Domain Privacy will show anyone looking at your domain name record generic information. For more information please click here.
Only One Internet are pleased to announce this price breaking special offer.
Register more than 50 .com, .net, .org, .info, .name or .biz domain names in one go and benefit from our special offer price of £3.99 per .com domain name! Remember that many companies make you register your domain name for 2 years or more, at Only One Internet you can register domains for just one year saving you £££.
Only One Internet's bulk domain and contact management tools make managing and registering thousands of domain names with Only One Internet easier than 1 2 3. To register domain names now click here or to view our domain prices page click here.
Only One Internet are known for providing a great service at a great price and that's why we have a great new special offer - .com, .net, .org, .biz, .info & .name are now just £5.99* per year. Be quick though, this offer ends very soon.
To order a domain name simply access your Only One Internet account and click "Order Domain Names".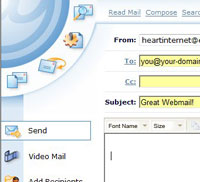 A big thank you to all our customers who have requested new features and upgrades to our Webmail service, we know that our Webmail system is critical to many of you and we have been working on a major upgrade for some time. Thanks to you, our Webmail service is better than ever!
Our new Webmail is even easier to use, is faster to display messages and works in a wide range of web browsers with many advanced features. Some of the great new features include:
New Folder Support
Our updated Webmail system allows you to create as many folders as you need to easily store and organise your mail. You can store up to 100 MB of mail in your folders.
Enhanced Calendar
This handy feature allows you to manage appointments (tasks) on a quarterly, annual, or daily basis.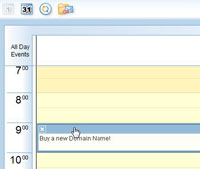 Outlook-to-Webmail Sync
Microsoft Outlook can be synchronized with your Webmail account so that contacts and scheduler data can be shared between a desktop and Webmail client. If a user adds a new appointment (task) or contact while using Outlook or Webmail, the data will be automatically synchronised between the applications.
Enhanced Address Book
Webmail's enhanced address book functionality allows you to import and export contacts from/to CSV (comma separated values) file format. You can also sync your Webmail account with your existing address-books.
Spell Checker
Spell check your email before sending it using the built in spell checker with a new and updated language database.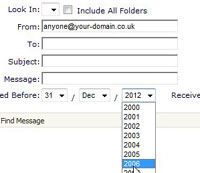 Mailbox Sorting & Searching
Messages contained in your Inbox can be sorted by subject, date, or email address. You can search your mailbox for keywords, allowing quick and easy access to your stored email.
Rich HTML Messages
Create eye-catching emails using different fonts and colours or by embedding pictures and sounds. Why not add your company logo or a customised signature? You can easily attach files to your emails to send to friends, family or colleagues.
Email Filters
Create rules to move specific messages or block unwanted senders altogether.
Along with the new features we have also implemented a new hardware platform for the Webmail system to operate on. This uses state-of-the-art hardware load balancers to distribute traffic to our to our cluster of Webmail servers. Your messages are centrally stored on giant disk arrays and backed up each day, first to another disk array and then to tape which is stored offsite.
To access Webmail simply login to your eXtend control panel or if you know your username and password simply visit www.outitgoes.com.
Take all the hard work out of managing multiple domain names with Only One Internet's new bulk domain name management tool.
This new system allows you to perform common functions to all your domains or a selection of domain names in one go. You can even store groups of domains in their own profiles so that you can easily manage related domains.
For more information click here.
We thought we would welcome the New Year in with a great special offer! .com, .net, .org, .biz, .info & .name are now just £5.99* per year. Be quick though, this offer ends 19th January and will not be repeated.
For more information click here.
We are pleased to announce that we have added the popular shopping cart system CubeCart, to the range of programs that can be installed via the eXtend control Panel.
CubeCart is written by a British company and offers a very flexible approach to building your online store. As well as being well supported through two community forums one of CubeCart's best features is that independent developers have created add-on modules that add extra functionality to CubeCart for a small cost. This means that you can pick and choose the features you need.
Some of CubeCarts features include:-
Used by over 1 Million Stores
Professionally Security Audited
100% Template Driven
XHTML & CSS Valid
Plug & Play Shipping/Gateway/Affiliate Modules
Tax by Country or County.
Multi Currency Support
Email Marketing
Stock Control
Sell Digital & Tangible Goods
To install CubeCart on your account simply login to the eXtend Control Panel and select the Ecommerce section.
Designed in-house by our own development team and unique to Only One Internet, the eXtend Control Panel is one of the most advanced and fully featured web hosting control panels available. Today we are pleased to announce that we have made a number of updates to eXtend to make it even more powerful and easier to use.
As well as an updated look and feel you may be interested to know that every new feature we have added to eXtend was a suggestion from one of our customers. Sending Only One Internet a suggestion or feedback is easy, simply fill in the feedback forms located in the Only One Internet Customer Control Panel.
Backup and Restore Update
We know that one of the most popular features in eXtend is the backup and restore facility, we have updated this so that you can now drill down and backup specific folders or your whole website in one go The restore feature has been moved so it is on the same page as the backup feature.
Autoresponders
Autoresponders are another popular feature and we know that a lot of people use these when they go on holiday. You can now disable and enable autoreponders rather than having to delete your existing one and adding a new one.
Email Forwarding
You can now forward one email address to up to 10 other addresses using the email forwarding feature.
MySQL Databases
We have made two major updates to our MySQL Database feature, the first is that you can now backup and restore any of your MySQL Databases from the database management page.
The second update is aimed at advanced MySQL Database users. As standard when a database is created we also create a user who has permission to access that database. We are continuing to do this, however you can now add additional users as well and grant these users specific permissions.


Although mobile devices and the networks that support them are improving, it seems like the mobile Web is almost a secret these days because sites can be hard to locate and have little content when you find them.
And yet, with four mobile phones purchased for every one personal computer, there's a world of people whose main access point to the Internet is a mobile device.
There is finally a solution: dotMobi.
dotMobi is the first and only top level domain dedicated to delivering the Internet to mobile devices. dotMobi will revolutionise the use of the Internet on mobile devices. dotMobi is designed to guide mobile users to made-for-mobile Internet content and services that can be accessed with confidence.
How should I use a dotMobi Domain Name?
Anyone can register a .mobi domain name and we encourage businesses and individuals to reserve their .mobi domain name now while it is available.
The idea of the .mobi domain is that websites published on a .mobi site must comply with mobile phone standards, this is to ensure that the end-user experience lives up to the promise of the dotMobi brand. An online compliance checker is provided on the .mobi site to ensure that your site is compliant.
To register a dotMobi domain name today, for just £25 per year, click here.
Only One Internet is pleased to announce that one free license of Website Builder Plus, is now included with the Unlimited Package account as standard.
Website Builder Plus is the very latest online Website Builder allowing your customers to create a professional website in minutes. Website Builder Plus allows you to generate significant extra income and tie the customer into your product offering.
Only One Internet is pleased to announce the launch of Website Builder Plus, the very latest online Website Builder allowing anyone to create a professional website in minutes.
Website Builder Plus has to be seen to be believed, it creates dynamic and vibrant websites with no technical expertise needed. Your site will have that "custom" look that is usually reserved for sites that cost a fortune to create by professional design agencies.
With more than 500 high quality templates and easy to use modules including a blog, photo album, online shop, website statistics and more. Website Builder Plus really does allow you to have a great website for a very low price. What's more at Only One Internet we do not limit the number of web pages you can create, allowing your website to grow when it needs to.
Only One Internet home of the UK's fastest growing Unlimited package is today adding Joomla! to the expanding list of applications it's customers can install.
Joomla! is one of the most powerful Open Source Content Management Systems on the planet. It is used all over the world for everything from simple websites to complex corporate applications. Joomla! is easy to install, simple to manage, and reliable.
Joomla! is available as standard on the Home Package, Business Package and Unlimited Package packages. To order now click here.
Only One Internet is pleased to announce that in response to customer feedback we have added Locked Area Lite to the suite of scripts that can be installed from the eXtend control panel. Locked Area Lite is a sophisticated password protection and membership management system that gives your users access to a password protected members area. Locked Area Lite manages the users login details and allows the webmaster to email and manage users from a simple web interface.
Signup Features
Automated membership registration.
Inputs info into a member's database and .htpasswd with encrypted passwords for increased security.
.htpasswd passwords are encrypted using DES randomised salt encryption for extra security.
Emails registrant with confirmation details once they've registered.
Additional form field for collecting extra information about your users.
Member Features
Account modification facility.
Account removal facility.
Password changing facility.
New password request facility.
userdetails.cgi script that displays a users account details.
Administration Features
List all users facility.
Account removal tool.
Create accounts facility.
Bulk email tool with member's db data import.
Powerful member's area statistics system.
All failed administration panel logins are logged.
All configuration is done via the administration panel.
Other Features
Quick and free online support.
Customisable headers and footers for all public parts of the script.
HTML held in external text files.
Separate headers and footers for administration section.
All configuration is done within one simple file.
Randomised DES password encryption for increased security.
Passwords held in member's database are encrypted for extra security.
Easy customisation of fonts and colours.
Notification facility for administrator so they know when a user removed themselves from the member's area.
Signup online/offline facility to allow the administrator to close the registration from and stop new signups.
Locked Area Lite is included with all our web hosting packages, to place an order click here.
Only One Internet is pleased to announce that our popular Business Package package now includes email virus protection and submission to up to 500 search engines for free.
Our first free feature has never been so important as viruses plague more and more businesses and with the majority of viruses being spread by email there has never been a better time to protect all your company email in one easy way. Our virus protection system means that you don't have to do anything as our system strips viruses from emails before they are delivered to you.
Our second free feature gives our business customers a head start in getting their website indexed in major search engines without having to do any work at all!
This special offer makes the Business Package package the UK's best value and most fully featured business web hosting solution, with our 30-day money-back guarantee you can try it without risk. Click here now.
We are pleased to announce that the official European domain name extension .eu has now gone live. Businesses and individuals alike can register domains in real time using the Only One Internet registration system.
We recently asked our customers if there were any new scripts that they would like to see added to the eXtend control panel. Thank you to the hundreds of people who responded. We are pleased to announce that the following new scripts have now been added to eXtend Control Panel.
Zen Cart
Zen Cart is a popular shopping cart program that puts the merchant's and shopper's requirements first. Zen Cart has been developed by a group of like-minded shop owners, programmers, designers, and consultants who think e-commerce could be and should be done differently.
Mambo CMS
Mambo is a full-featured content management system that can be used for everything from simple websites to complex corporate applications.
WordPress Blog
WordPress is arguably the most popular blogging software available today! It's easy to install and use and will allow you to have a great-looking blog in minutes.
We are working on some of the other script suggestions we received and hope to have an update on these shortly.
In response to customer demand we have added another blog to the list of installable scripts that are included with many of our web hosting packages.
Nucleus is one of the most popular blogs available and offers you the building blocks you need to create a web presence. Whether you want to create a personal blog, a family page, or an online business site, Nucleus CMS can help you achieve your goals.
Nucleus has many features, including the ability to operate multiple blogs from one installation, multiple authors as standard, built-in commenting system, drafts and future posts management and a plug-in manager so you can add community-written plug-ins that work for your blog.
This new feature is standard on the Only One Internet Unlimited Package, Business Package and Home Package packages. Why not order one now?
We are pleased to announce today that the new version of the popular PHP programming language is available on all the Only One Internet web servers.
PHP5 has many new features including a streamlined and faster running core.
To preserve our current PHP setup all existing scripts are unaffected, customers wishing to run PHP5 should call their PHP5 script something.php5 which will ensure that the web server runs the script as a PHP5 file.
All of our hosting packages include PHP4 and PHP5. To order web hosting click here.
On April 7th 2006 the wait is over - the new European domain extension will be officially launched. The .eu domain is set to become a standard domain extension throughout Europe and will be vital in years to come for businesses, organisations and individuals residing in Europe. .eu is the official European top-level domain name extension operated by the European Commission.
General registrations will start on the 7th April, but we are offering customers the chance to pre-register the .eu domain names of their choice in a bid to secure your required domain names when registration opens.
At Only One Internet we listen to our customers, as there is no better place to get ideas and suggestions to improve our products and services. As many of you know, there is a feedback form in the customer control panel and a special one for Resellers in the Unlimited Control Centre. The feedback forms have recently been updated and we invite you to make suggestions about our products and services at your convenience.
Below are some features we have recently added as a result of your feedback.
Quick Start Guide
Our new Quick Start Guide helps new users to understand the first steps they need to take to activate their hosting account and publish their website with Only One Internet.
Improved Navigation in eXtend
To make navigation easier in the eXtend control panel we have introduced a new menu system that expands based on the area you are visiting in eXtend. We hope this makes eXtend easier to use.
Search Support Tickets
A number of customers have asked for the ability to search previous support tickets, a feature that is now available under the heading "View Current and Past Customer Services Tickets", which is located in the "Contact Customer Services" section of the customer control panel.
eXtend FTP Password
The front page of the eXtend control panel shows lots of useful information, including your FTP password. To improve security this is now hidden unless you click to view it.
File Manager Update
The file manager in the eXtend Control Panel now supports deleting multiple files at once. Simply check the box next to each file you would like to delete and press the "delete" button at the bottom of the page.
Blacklist Email Addresses or Whole Domains for Email
You can now stop specific email accounts or even whole domain names from sending you email. For example if you continually receive mail from someone@hotmail.com and you no longer want this email you can enter this address into the blacklist located within the "Junk Email" section of the eXtend Control Panel. All emails from this email address will be bounced back, saying that no email account under that name exists! This feature works for whole domains as well as individual addresses.